10 Days in a Carry-On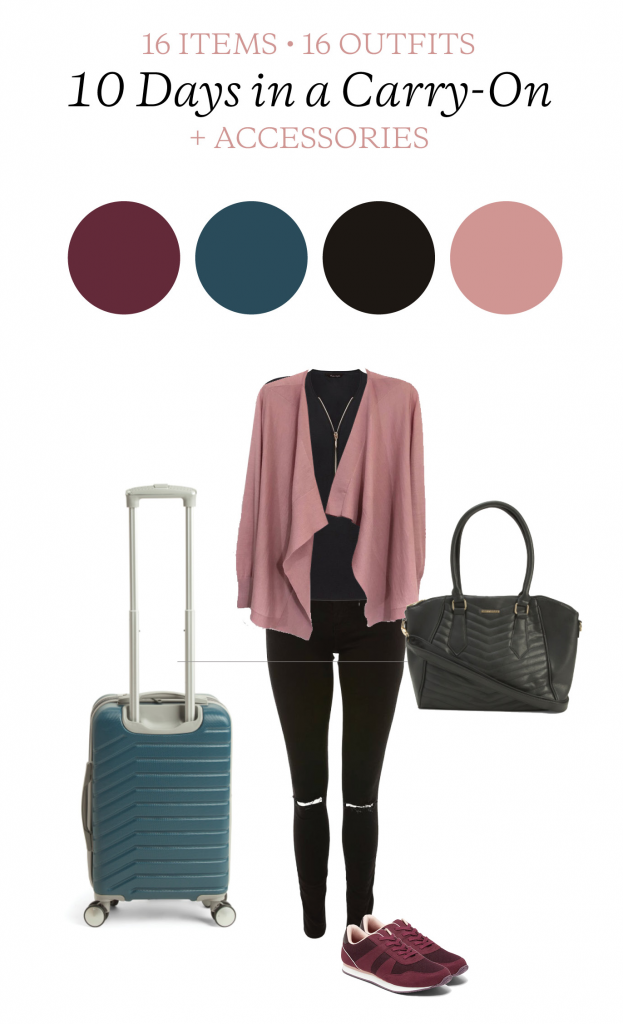 Our trip to Las Vegas and Atlanta is about two weeks away, and I'm starting to think through the most efficient way to pack for 10+ days of travel that includes a variety of events and dressing styles (from travel days to wedding receptions)! Building digital capsule wardrobes is a bit of a creative game for me — sort of like some people do sudoku or crosswords to keep their brain working, I like to create outfit or mood boards. Like this one from last spring or these ones for my kids. It's a fun and practical way to figure out how to utilize what's already in my closet, or determine what else I need to purchase to fit a seasonal, event-related or style need.
Along the lines of a 10×10 challenge, figuring out how to fit a variety of outfits in a 9x14x22″ carry-on suitcase is a bit like putting together a puzzle. A stylish and appropriately dressed puzzle. Mix and match items are my favorite.
Tips for Packing a Travel Capsule
Choose a Palette
I like to start with a color palette or 4-5 coordinating colors (usually two neutrals and two accent colors) and then pair items from there. I can find photos of most items I own online and pull them into an image editing/layout software (either Photoshop or InDesign) to play with the outfits.
For this capsule, I used a palette I've been wearing a lot this winter: burgundy, teal, black, and rose. The inspiration for color scheme was a scarf I purchased in the fall that I've been wearing a TON. I found it on Amazon, and the colors look a little strange at first, but I love how it pairs teal and blush pink together and brings out these colors in whatever I wear!
Consider Climate
This upcoming trip includes two different clients in mid-winter — both of which are warmer than Indiana (yay!) at this time of year. So my capsule involves items that can be layered to create varying degrees of comfort depending on the outside temps: short sleeve, long sleeve, lightweight and sweater weight. I'm not packing any heavy outerwear because 1) I won't have room in my little carry-on and 2) I won't be outdoors in cold temps for long periods of time. Even Georgia in February is generally in the 50-60s, which is downright balmy compared to the 20-degree (or lower) days of a Midwestern winter. I'm including a cardigan and a light jacket that can be paired together for cooling evenings if needed.
Get Creative
Traveling is not necessary the time to try an outrageous new trend, but you can also feel free to get a little creative with your outfit styling. They key is to select a palette of colors that all work well together — so that any item can be paired with any other item and still coordinate, even if it's not how you would normally wear that piece.
My Travel Capsule
Several of these items are already staples in my closet (like the black and mauve blouses, favorite high rise jeans, burgundy skirt and the moto jacket), but I did add a few items for this trip that I knew would work well for me to wear through the rest of the winter and into springtime here. My big focus was on the shoes — an accessory that can make or break the outfit! I wanted to have enough variety to get me through different events*, and also comfort for traveling and walking around a lot.
*I will throw in a swimsuit, cover-up, and flip flops for the pool, but that's more of a specialty "outfit" so I didn't include it in the lineup!
Tops
Black Half-Zip Blouse – Kohls
Tie-Front Sweater – NordstromRack
Dolman Sleeve Teal Shirt – Amazon
Cross-front Floral Blouse – NordstromRack
Twist-front Mauve Tee – Nordstrom Rack
White Swing Cami – Amazon
Mauve Open Cardigan – Loft
Market & Spruce Moto Jacket – StitchFix (a couple years ago)

Bottoms
Distressed Black Jeggings – Old Navy
Pull On Burgundy Skirt – Old Navy
1822 Denim High Rise Jeans – NordstromRack

Dresses
Boatneck Teal Dress – Amazon

Shoes
Blush Ballet Flats – Amazon
Burgundy Retro Sneakers – Old Navy
Black Wedge Booties – TJMaxx
Open Toe Block Heels – Target


The Outfits