Summer Capsule Wardrobes (for children)
Sometimes I daydream about living a minimalist lifestyle.
Fewer things, less clutter, less to worry about, right?
This is not always true, because even (especially) non-material things can create "clutter" in our lives. But that's a post for another day. In real life, I'm pretty far from minimalism, although I put a good deal of effort into avoiding clutter and unnecessary belongings. One habit I like to focus on (and am still working on) is wearing a capsule wardrobe that allows me to feel stylish and comfortable without owning a ton of clothes. The idea of a capsule wardrobe has had a lot of appeal over the last decade and I know plenty of bloggers have built their platforms on this concept (I'll share a few of those links down below). In fact, entire businesses have been built on it. Namely, Cladwell. This is a service that gives you digital tools to define your style, assess your wardrobe, simplify your outfit selections and generally streamline your life related to clothing! It's pretty impressive.
While I don't think an app is really necessary to make this happen, utilizing the basic principles of a capsule or minimalist seasonal wardrobe is a great way to steward your funds and belongings responsibly. Nobody really needs that many clothes. And especially when it comes to managing other peoples' wardrobes (ahem, children), it helps to have a system that reduces the excess and clarifies appropriate style for young ones who are still developing their "fashion sense".
I created these two capsule wardrobe mood boards with my two oldest children in mind: an 8-year-old boy and a 6-year-old girl. And these outfits have been approved by them! The colors and styles suit their personalities, but you may find that your kiddos prefer different colors/patterns. Shopping online makes that easy! I've used Amazon and Old Navy to create these capsules, but I rarely buy all new clothes for myself or my children. I more frequently shop ThredUp or Goodwill! So, keeping that in mind, you can probably get most of these basic wardrobe items (tshirts, shorts, etc.) for less. These boards just give you an idea of what it costs to buy new. I'll do a separate post on shopping resale to showcase the value and impact of buying used!
Till then, I hope you find these capsules helpful as you're planning summerwear for your own families!
---
Summer Capsule Wardrobe for Girls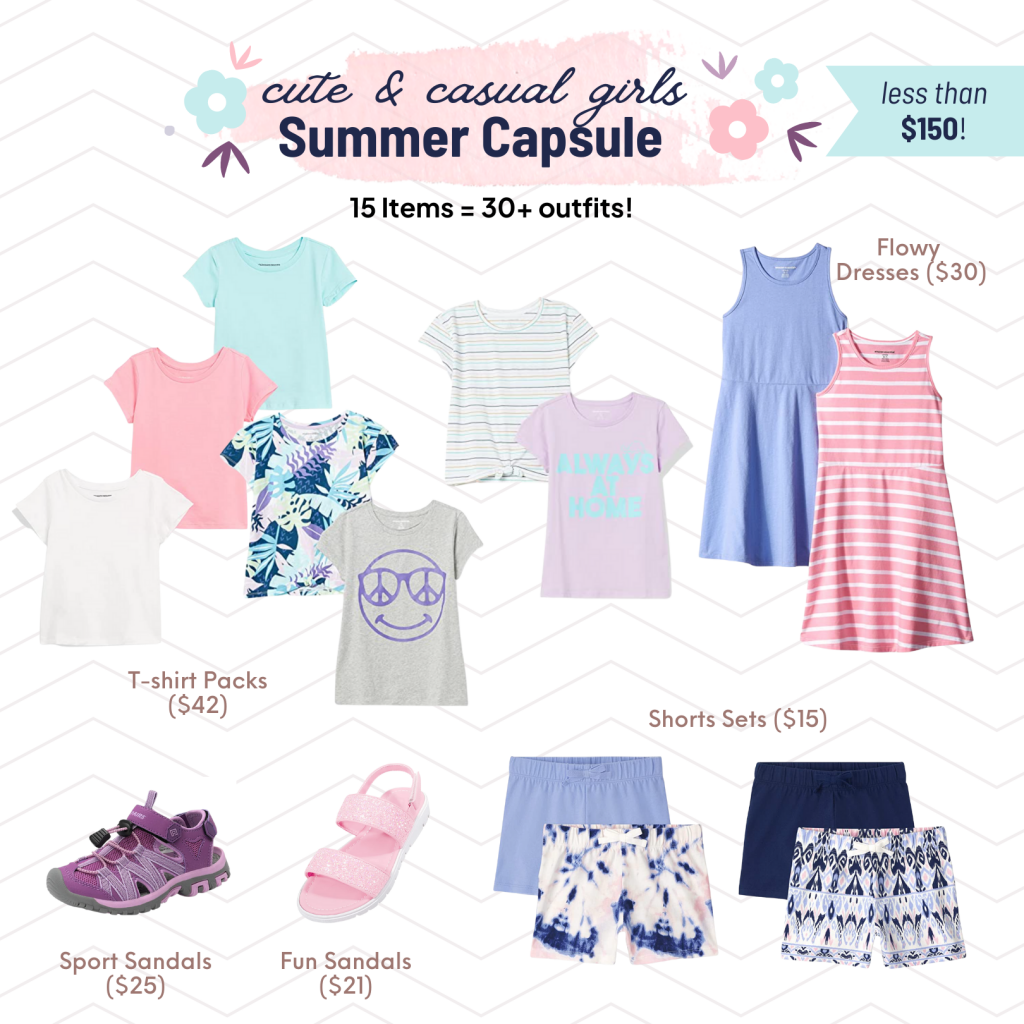 Shop Amazon:
Styling Tips: Try a t-shirt layered over the tank dress for a "skirt" look! This almost doubles the number of outfits you can create. Add accessories like a headband or scrunchie, or a simple necklace to personalize an outfit.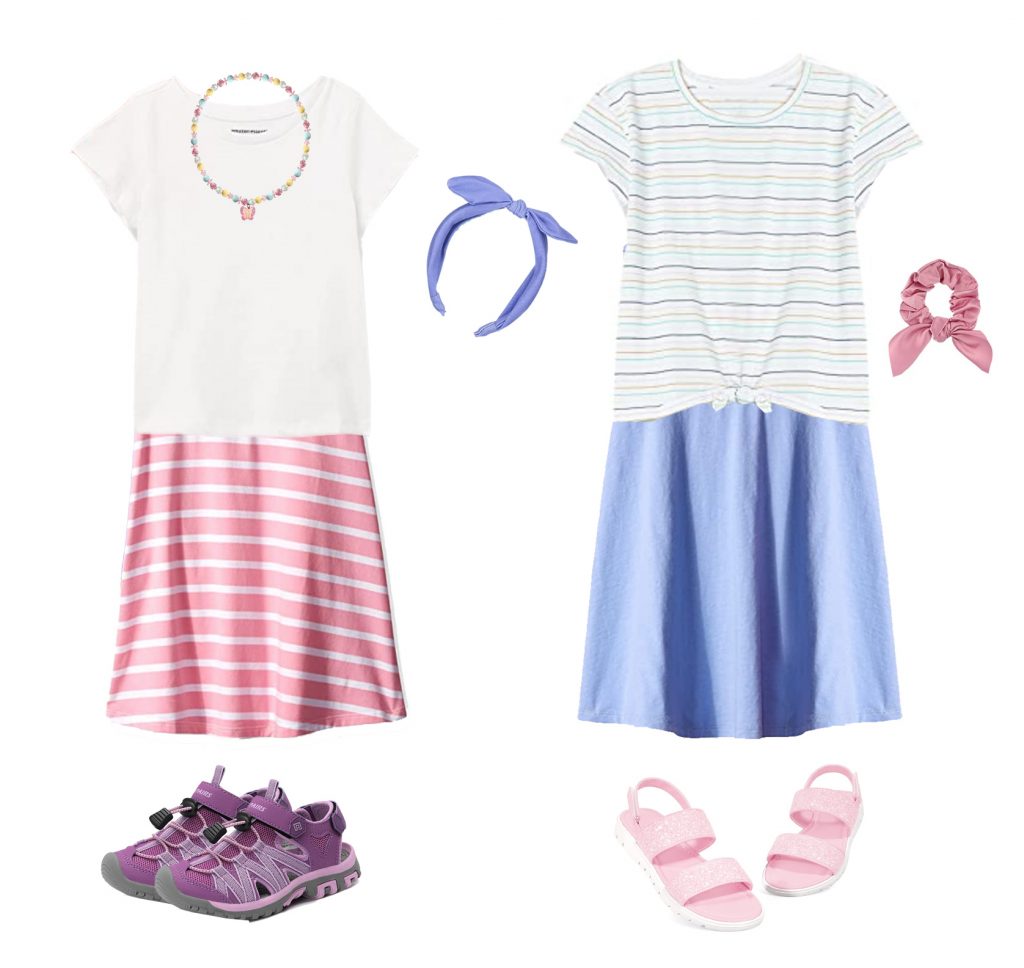 ---
Summer Capsule Wardrobe for Boys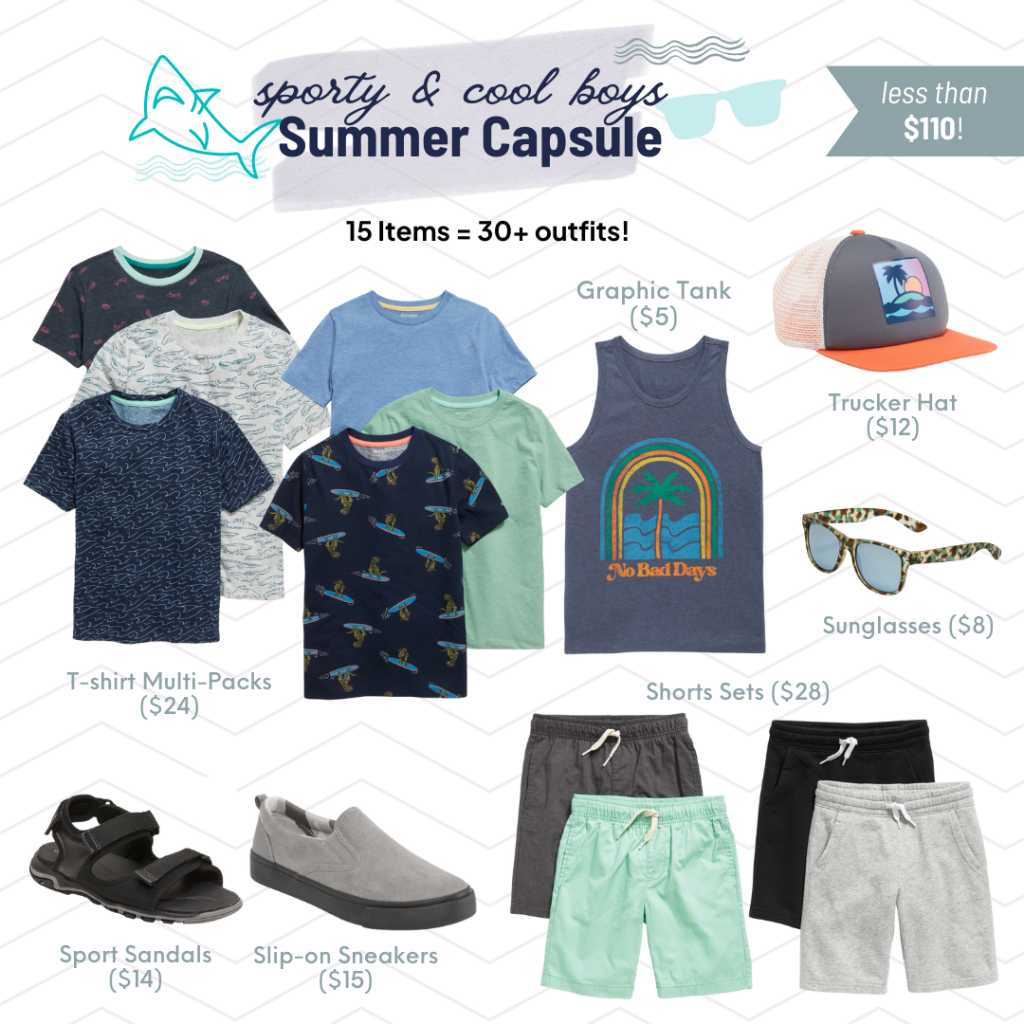 Shop Old Navy:
---
If you're interested in learning more about how to create a capsule wardrobe, or just want to see what other folks have done with it, check out these sites!
---