Master Bath Reno
I have a lot of little projects going on around the house these days (spring cleaning, yay!), but one of the biggest items on the list is our Master Bathroom Renovation. This has been on our list pretty much since we moved in… not because it's in really bad shape, but primarily because it's a place in the house where DH and I both spend a lot of time, and we'd really enjoy some reasonable cosmetic upgrades. We're not moving walls or anything; primarily just new finishes to upgrade the current space. And, since this year is our 10th wedding anniversary (what?!?) we agreed it was a worthwhile investment to "gift" each other a refreshed space.
I've been researching local contractors for months, and let me tell you, it is not easy to find someone you trust to do the job well for the right price! After several walk-throughs and quotes, we have finally settled on a local company with good response times and reasonable pricing for what we want to accomplish. We talked through the costs and benefits of updating various aspects of the space, and settled on the shower (converting a tub/shower combo to a walk-in), replacing the flooring, and updating the vanity countertop. I created a mood board to help guide our process….
BUT THEN…. we went to the tile store with the contractor and everything changed! We always liked the idea of wood look tile, and as the mood board above shows, I had something lighter in mind. But when we got to the tile store, Patrick saw a darker finish that he loved. So I let him have it! We didn't have to adjust too much about the shower tile selections, but I think the dark floor tile gives a different vibe and I'm excite to see everything come together. With the darker floors, I'm leaning toward a lighter wall color, which is already what we have going on in the hallway to the master bath (Valspar Silver Leaf). So here's what the finishes are looking like now: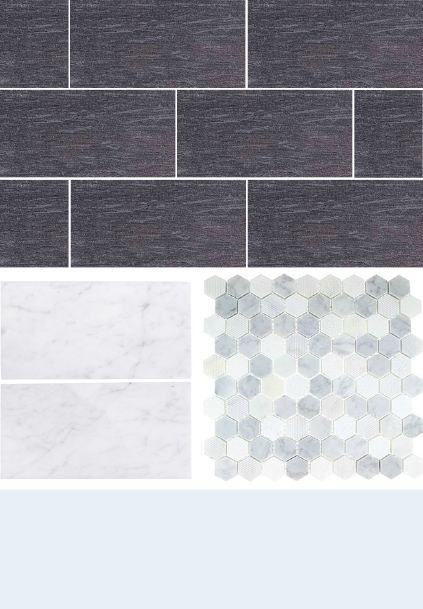 Our vanity, which I painted with chalk paint last spring, will stay the same color, but will be updated with a cultured marble countertop in "Carrara Frost" which coordinates with the Carrara subway tile in the shower. We'll stick with the polished nickel faucet and hook/holder finishes we have now, and just update the light fixtures above the mirror. I've already updated the cabinets with some new glass and nickel pulls from Target — I love how they turned out! It will be several more weeks before demo starts, but once they begin the project should be done in 3-4 weeks. Exciting! Stay tuned on Instagram for updates, and I'll a before/after reveal post when everything is complete.