Putting on My Face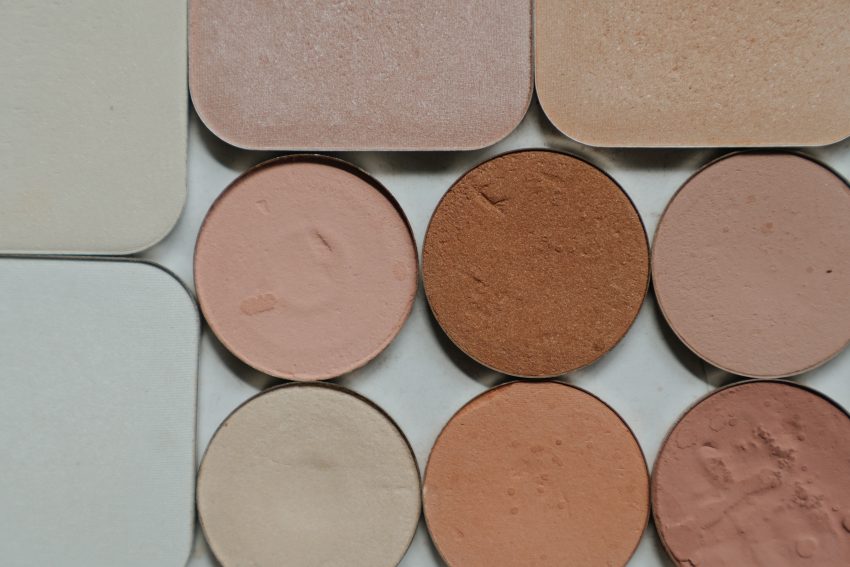 As a work-from-home mom, not every day requires dressing up and "putting on my face" (i.e. makeup). But most days, I try to put myself together even if I'm not leaving the house, because it makes all the difference in how you feel the rest of the day! Schlepping around in PJs with messy hair and no make-up most likely means a less productive day. Even throwing on a pair of jeans and a cute top or t-shirt makes me feel more ready to face the day.
Now, I've never really been a natural with makeup. I didn't even start wearing it until I went to college (except for special occasions, like high school dances). And even in college, I had a lot to learn about application and what worked best for my features. Despite my artistic tendencies, which involves applying color to a canvas, the application of color to my face did not quite translate. DH still likes to make comments about my college-aged makeup styles… let's just say it may not have been the most flattering. 😉
But several years later, I feel like I have finally honed a look that I feel works for me. It's fast, fairly simple and, in my personal opinion, gives me the right amount of feature enhancement without looking overdone. Here are my favorite makeup items that make an appearance on my counter almost daily:
CoverGirl Ultimate Finish Foundation in Classic Ivory – Target
CoverGirl Classic Color Blush in Iced Plum – Target
Maybelline Great Lash Mascara – Target
Estee Lauder Lip Color in Inescapable – Estee Lauder
Mary Kay Cream Eye Shadow in Beach Blonde – Mary Kay
Bare Minerals Powder Eye Shadow in Faux Mink – Bare Escentuals
CoverGirl Brow Pencil in Midnight Brow – Target
CoverGirl Perfect Point Plus Eyeliner in Plum Velvet – Target
You'll notice that I use a combination of brands: some a little pricier, some "drugstore" brands. I've tried a lot of makeup lines over the years, and realize that the most expensive brands are not always the best. CoverGirl is an obvious favorite for quality, application and price. The Maybelline mascara is the best I've found and I've even known makeup artists to use it regularly — for $4.79 you can't beat the value! You can find all of these items (except the Mary Kay) at Target, your local drugstore, or the mall.
Face
The CoverGirl cream to power foundation is an absolute favorite. It goes on smooth with a matte finish and great coverage (especially for those under-eye circles and occasional blemishes). I go through these pretty quickly, so I typically buy two at a time. For $6.29, that's not a bad deal — especially with a Target coupon! I'm always sure to put on moisturizer before hand or the powder finish looks a little too dry (don't even ask about my moisturizer brand… it changes weekly).
After a layer of moisturize, I use the included sponge to apply foundation all over the face, and a little on the neck/decolletage. Then, I apply the blush to the apples of the cheeks with a light sweep up to the temples. I don't use bronzer or anything because I'm so fair I feel like it makes me look fake.
Eyes
For my blue-green eyes, shades of brown and plum really work best to make my eyes pop. I recently discovered the MaryKay cream shadow at a party I hosted, and I love that it acts as eye-enhancing color as well as a primer. It is very easy to apply and long-lasting. The CoverGirl eyeliner is fantastic because it goes on smooth and never needs to be sharpened like an eye pencil would be. It last a really long time to — I probably only buy one a year.
I use my ring finger to apply the Mary Kay cream shadow over the entire eyelid — from lash line to just below the brow. Then I use a Bare Minerals brush to apply the eyeshadow powder to the outer corner of my eyelids and into the crease. I apply eyeliner at the lash line on the top lid only (I usually save the bottom lash line for special occasions when I want to look "fancy"). Then, one or two layers of mascara on the top lashes. Finally, I use the CoverGirl brow pencil to fill in my eyebrows. I don't really do a lot of shaping on the brows, just add a little extra color and fill for a more defined look.
Lips
I don't always wear lipstick, but, when I do, it really makes me feel prettier! I typically don't like the feel or taste of lip wear (even balm or Chapstick), which is why I leave my lips bare. But for a finished look, it really makes all the difference. No lipliner needed, just a light coating of lipstick, gloss or, for a long-lasting look, lip stain. Sometimes, I'll even use lipstick as a cream blush — it gives me some color variety and tends to last longer than powder.
These items make up my standard, day-to-day look, although I do change up the eyeliner color or eyeshadow for certain occasions. On a day when I'm trying to get out the door quickly, I skip blush, lipstick and a second layer of eyeshadow. Eyeliner, cream shadow, strong brows and mascara seem do a pretty good job of highlighting the eyes which, sometimes, is all you need. 
I enjoy watching Kate's makeup tutorials over at The Small Things blog for new ideas and techniques! She has some fantastic hair tutorial videos as well. She is a mom of two and still manages to look lovely and put together most days — something I admire!
What are your go-to makeup items or favorite looks?